When you choose a CHAMP Camera system, one of the first steps in the installation process is to do a "virtual walkthrough". This is simply a video conference call where you walk through your meeting space to show the CHAMP team the location so that we can create an installation plan for you.
We use Google Meet to be able to see your meeting space and discuss various aspects of the room and hardware locations. You can use a laptop, which requires no additional software but it's usually best if you use your smartphone so that it's easier to walk around.
Things You Will NEED
Smartphone with Google Meet installed (see below)
Full-Access to your meeting space
Ladder if you have tall ceilings
Tape Measure. This is optional and can be after the call to measure specific distances in the room
Before The CAll
Before the scheduled call, you want to do the following to ensure that you're prepared and there's no issues during the walkthrough.
Install the Android App or iOS App on your phone
Log into the app with your Google login or create a new one
Connect your headphones or bluetooth headset (recommended) but you can also use the speakerphone if you prefer
Flipping The Camera
During the call, you'll be asked to walk around the room and point the camera on your phone to various locations. When you start the call, the front-facing camera will be used. The switch to the back-facing camera, simply do the following:
Join the call
Select the three dots "…" in the upper right corner of the app
Select "Switch Camera"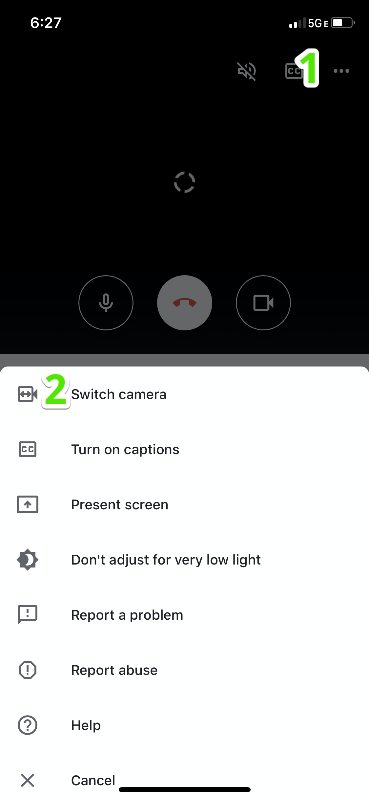 During The Call
On the day of the call, we will simply give us a tour of your meeting space. Typically, you will walk in from outside the room and then walk towards the dais where the board sits. We'll want to look at the ceiling and ask you to hold your smartphone up high in a couple of places to test where the best place is for your new camera(s).
After The Call
Once we get a general idea of your meeting space, we will send an email with a list of follow-up questions. These typically include questions about room measurements, ceiling access and network locations.