If you already have an existing event, you can use the content of that event to create a new event. This process is called cloning and when you use this feature, the following information will be cloned into your new event:
Event Title
All Agenda Data, including attachments
All Minutes data, including attachments
Missing from the above list is Media because each Event typically has unique video associated with it, so it would be confusing to copy over your video to a new Event that you plan to record.
How To Use The Clone Feature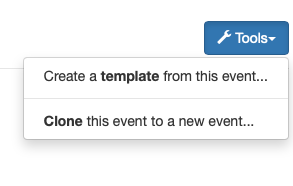 Select "Events" from the top menu
Select the specific Event that you would like to cone
Under the "Overview" tab for the Event, select the blue "Tools" button in the top-right of the page
Select "Clone this event to a new event…" option
When you have cloned an event, you can now change the Title, edit, delete and re-order any Agenda and Minutes data. Any changes that you make will not affect your original Event, just the new Event that you have created.
Example Workflow
Using Templates for a new Event is very handy when all you need is boilerplate content as a starting point. Cloning is a better tool when you need more data and that data exists in a previous event. Typically, the data that you're needing are the attachments that have already been uploaded and attached to your previous event.
Below is an example workflow of how you might use this handy feature:
You create an Event for the Work Session for your board. You create this Event from a Template.
After the Work Session Meeting has happened, you Clone the Event into a New Event.
Now that you have an exact copy of the previous Event, you rename it from "Work Session" to "Regular Meeting"
Under the Agenda tab, you make all the necessary adjustments, edits, deletions and additions necessary
As you can see, if this workflow matches any of the meetings that you are responsible for, this can be a HUGE timesaver.